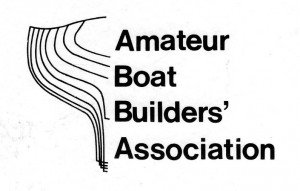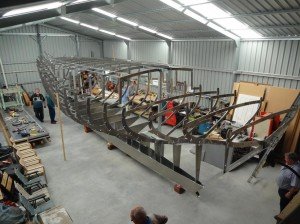 The AMATEUR BOAT BUILDERS' ASSOCIATION of WESTERN AUSTRALIA (ABBA) is a group of home boat builders building in timber, aluminium, fibreglass and other materials. About half the members currently have projects under way, ranging from dinghys to ocean going yachts and historic rebuilds. Others have either completed boats, are restoring classics or just have an interest in things nautical.
Meetings  We meet on the FIRST WEDNESDAY of every EVEN month (Feb, Apr, Jun, Aug, Oct & Dec) at the South of Perth Yacht Club, 7.30 pm for an 8.00 pm start. These meeting usually involve a guest speaker on a relevant topic with time to socialise and network with others.
Toolbox Visits  Visits to members' projects, practical demonstrations at commercial premises or other events of interest take place at the beginning of every ODD month, usually on a Saturday afternoon.
 Web Site This website is continually updated with details of upcoming events and other information. Have a look at the "LIBRARY" section to see the wide range of informative topics that have been covered, the varied and interesting places we have visited and the diverse range of projects undertaken by our members.
Interested? ABBA welcomes new members – hopefully we can all share advice, techniques, experiences and other information. To join us, just come along to a meeting or contact 0419 508 785 or cadeefamily@bigpond.com  for more details.
Calendar of Upcoming Events
Jun7, 2017
JUNE 2017 TECHNICAL MEETING
from 8:00 PM to 10:00 PM
Our next meeting will be on Wednesday 7th June, as usual in the Heritage Room at South of Perth Yacht Club, 7.30pm for an 8pm start.  This Meeting will be a presentation by Past President, Chris Davis on the "Saga of Argosy". This 29 ft timber yacht was designed by Ted Luck with construction started before World War II interrupted proceedings. Hear the full story leading to its completion and launch in 1947.  Chris bought her in 1987 and there is an equally fascinating story about her restoration since then.  All welcome to attend.
Jul1, 2017
JULY 2017 TOOLBOX VISIT
from 2:00 PM to 4:00 PM
Our next Toolbox Visit will be on Saturday 1st July from 2-4 pm in Mick O'Shea's extensive workshop at Grandis Cottages, 45 Casuarina Place, Henley Brook. On our last visit in April 2013, Mick was busy building Janice Lorraine,  a 30 ft Edwardian launch and restoring a triple expansion steam engine and to power her. Mick has completed this project and has trailered her to cruise the rivers over east. Also on display will be his other 23 ft steam launch, Emmamadeline. It will be a great afternoon and well worth the drive to get there. All welcome to attend.