THE OLD MEETS THE NEW — SEXTANTS AND WEBSITES
AGM
Our October Tech Meeting was in many respects a mix of relatively new technology and very old technology. This was also our Annual General Meeting. However, the formal AGM business was concluded expediently with your existing committee being re elected with the addition of Harry Speight who kindly volunteered in response to the Chair's invitation for additional committee persons. The Chair also indicated that there would be a more formal committee meeting structure in the ensuing year to assist in planning and to distribute committee tasks. A report on the subsequent committee meeting appears below. 
Website Launched
Following the close of AGM business, Mike Beanland provided a 'guided tour' to launch the new website www.abba.org.au which he and his staff have so generously developed for our Association. The website includes wrap-ups of recent activities and reminders of upcoming events. We also have a Library containing nearly all the newsletters from August September 1999 and a separate section referencing the Toolbox visits over all those years. Population of the section on 'Our Boats' has commenced with photos and brief descriptions of Harry Speight's Farrier F82A trimaran and Bruce Cadee's 23 ft jarrah motor sailer. Similarly, the 'Buy/Sell' section contains the material referencing the logos and shirts, hats etc that Bruce has arranged for the Association. The remaining 'Gallery' and 'Useful Links' sections have yet to be populated. This might also include a 'useful tips' area and a 'question & answer' section.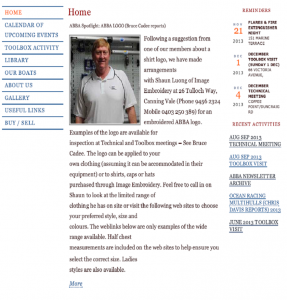 During his presentation, Mike encouraged us to progress the population of the remaining sections with material of value to members and for all of us to provide any feedback on the website to the Committee. He pointed out that we might choose to provide advertising for suppliers considered of value by members in return for a small fee. There is also the potential to insert videos or make our own instructional material for assistance of members on aspects of boat building technique.
Mike completed his presentation by suggesting that the next step was a 'call to action' to all members. So…..members, this is now YOUR website. Please use it, refer friends and colleagues to it and proactively provide input and suggestions for ongoing further content and enhancements aimed at assisting other members, spreading the amateur boat building message and attracting further members to our forums.
 Members present at the meeting enthusiastically endorsed the chair's vote of thanks to Mike Beanland and his staff for the very significant contribution they have made to ABBA in the development of this website and we endorse this appreciation in this newsletter. Thanks once again Mike for this terrific effort.
 Sextants Revisited
In keeping with an objective of avoiding inviting external speakers on AGM nights, Ed Essers volunteered to enlighten us for the remainder of the night on the operation of sextants. This was a tech meeting subject that emerged when we appealed to members for suggestions about 12 months ago. Ed's ability to speak with both knowledge and experience on anything required to successfully build your own boat and go cruising is well respected by members, so it was no surprise that this was a very interesting session. We had a total of five sextants around the table so everyone had an opportunity to handle the real thing when we got to the practical bit.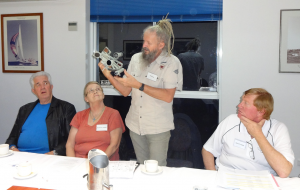 Ed explained how the sextant is actually 1/6th of a circle and hence its name but because of the double mirrors it allows a larger field of vision. When using the sextant it is particularly important to use an appropriate number of the shades which are graded from the lightest at the front to the darkest at the back. This even applies at night when taking sights of very bright stars.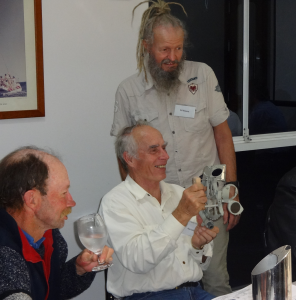 The most fundamental aspect of sextant operation is to ensure that the sextant is adjusted correctly to avoid inbuilt errors before commencing to take sights. Using his own sextant to demonstrate, Ed explained to us how to go about checking each of the four vital adjustments required to ensure that the sights to be taken are correct. When the first two checks are completed, the operator can be confident that both the mirrors are at right angles to the sextant body. The third 'index error' refers to the residual error remaining when the perpendicularity adjustments have been completed to the two mirrors. Index error is addressed mathematically in the calculations using the rule of thumb that if the error is 'off the arc' the error is added and if the error is 'on the arc' the error is taken off in the calculations. The fourth check is to ensure that the telescope is parallel to the frame of the sextant. Significant errors of this kind are unlikely unless the instrument has been dropped in which case it is likely that professional assistance will be required to undertake the required adjustment.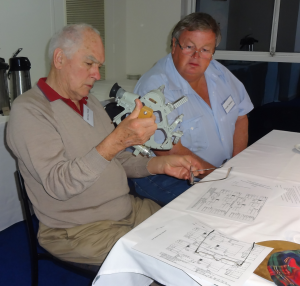 To take sights at sea, Ed recommended leaning against the mast with feet apart on the cabin top and to ensure that you get a good sight. But before proceeding always have a lanyard attached to the sextant around your neck! For noon sights the sun will keep coming up and then stop when the sight should be taken. The sextant can be used for a number of purposes such as calculating distance off from an object of known height via measurement of vertical angle, using the sextant horizontally to measure the angle between two objects or taking a running fix by way of sextant sights at 10.00am and 2.00pm if you know the direction and distance sailed over that time difference. At night, a good fix can be achieved via sights on four different stars. Ed noted from experience that he has also found a radio direction finder inshore to be useful in conjunction with a sextant at sea. 
 Once sights have been taken, Ed recommended the calculation method using a small publication called 'Celestial Navigation with the S Table' by Mike Pepperday. This is much more convenient than alternative methods using the much larger sight reduction tables. The Merlin Calculator, also of Mike Pepperday origin is  a very convenient and useful tool.  For time, Ed uses just a simple electronic stopwatch from Dick Smith of the type that has a lap time that will freeze whilst allowing the clock to continue in the background. 
If members wish to explore the intricacies of sextant adjustment and operation in more detail, Ed recommends 'The Sextant Handbook' by Bruce Bauer as a very clear account of the subject. We thank Ed for sharing his clearly extensive knowledge and experience with us on this most interesting subject.
 Committee Report 
Your committee met on Tuesday 29th October to plot the course for ABBA for the next 12 months. A summary of the main items discussed is recorded below for members' information.
 Constitution – Rob Bingham guided the committee through a review of the Constitution that he had undertaken and the revised draft will be available shortly for formal acceptance at an appropriate Special General Meeting.
Delegation of roles to facilitate more effective management of ABBA affairs was discussed. Harry Speight volunteered to arrange speakers for Tech Meetings and venues for Toolbox Visits. Bruce Cadee volunteered to be the Webmaster for the new website, Alun Dufty volunteered to compile 'useful tips' and the like for publishing on the website and Rosemary Nayler and Chris Davis confirmed their roles coordinating the library and editing the newsletter respectively.
It was agreed that several committee members would assist in a review of the library after Christmas with a view to disposing of some of the 'tired' books and potentially purchasing some new ones.
A list of meeting and toolbox topics was tabled for follow up by Harry Speight.
 Members wishing to contribute in any specific areas are invited to contact the relevant committee member as indicated above. 
Vale Jim Hopkins
It is with a great deal of sadness that we record in this newsletter, the passing of member Jim Hopkins in early October. Jim had been a regular attendee at ABBA events until relatively recently and only missed meetings and toolboxes when he was away with his other interest – caravanning.  We offer our condolences to Jim's family and friends.