WOOD IS GOOD
(and fibreglass doesn't grow on trees etc)
TECHNICAL MEETING: A J (Aaron) WOODALL – Shipwright, 13 Lerista Crt Bibra Lake (Peter Leggatt reports)
On a very wet night, the 7th August, we were all presented with a very informative discussion on the basic considerations involved for boat building, followed by an overview of the services offered by A J Woodall – Shipwright and A J Woodall's Legacy Nautical Division. These firms, established by our presenter Aaron Woodall, specialise in one‐off new builds of traditional and prestige luxury craft to meet the most demanding of specifications by their owners. This results in the production of unique craft that, with appropriate care, will continue to give pleasure and good service for many generations to come.
BOATBUILDING ESSENTIALS
Aaron began his talk with a general discussion of boat building requirements supported by samples of materials that are most readily available in Perth and the difficulty of sourcing materials now that were once quite conveniently available for personal selection.
| | |
| --- | --- |
| BS1088 Okoume Marine Plywood | Silicon Bronze fasteners from the USA & New Zealand |
TIMBERS
The four timbers of which Aaron had samples were;
TEAK
For decks and bright-work and quality fit-outs. Quarter-sawn teak is the essential choice for decks to minimise warping and also giving the most even appearance. Teak is an expensive timber that must be carefully selected but is durable, attractive and finishes very well, resisting weathering in the marine environment.
WESTERN RED CEDAR
This is considerably lighter and softer than teak, being used in strip planked construction where epoxy sheathing is desirable for protection and also for molded timber and again sheathed in this application. Cedar is also used for light-weight and less demanding interior framing. Mick O'Shea has chosen this timber for the strip planking on "Janice Lorraine".
DOUGLAS FIR ( OREGON )
The weight of oregon is greater than western red cedar but so is the strength, making it a good choice for frames, deck beams and laminated beams. Due to the reasonable lengths available it is the most common timber used for traditional timber masts. Sitka spruce would generally be considered superior for this application due to its lighter weight and usually higher strength but it is less durable and now almost unprocurable with most of what remained in the world having been carefully stowed away for replacement of ancient aircraft wing spars and other components.
PLANTATION TIMBERS
Plantation mahogany, as indicated in the sample presented, had a very attractive appearance and is satisfactorily used in high class interior fit-out work. While discussing the choices of timbers for particular applications, Aaron pointed out the difficulty of selecting timbers now, as even if it is held in stock, the merchants are not interested in breaking packs and letting small customers fossick through it. The indication was that due to his importation of some timbers and his own considerable requirements, that he could be a good source of supply for amateur boat builders.
MARINE PLYWOOD
The next area on which Aaron spoke at length was marine and other plywood suitable for boat construction. Here the feature that he stressed most was that the ply construction should comply to the British Standard BS 1088 AND carry Lloyd's Certification. This then indicated that a reasonable level of inspection, and quality of manufacturing technique, had been applied. About the only Australian ply available now is hoop pine and this is around 30% heavier than most other marine ply.
There were many samples of marine ply of different construction, timbers, weight and finishes. Some professional advice on choices to be made, particularly for a large project, would be highly recommended. Aaron imports large quantities of Okoume-make ply and would be a great source of product and advice.
Overall, the messages from this section of the talk indicated that materials were available but required some work to select carefully. Less old growth timber is available being more stable to use where plantation timber always moves out from a saw indicating reduced stability in use.
Fastenings used in traditional construction are still copper and silicon bronze with most of these sourced from New Zealand.
Protection of timber for maximum life was improved by use of an epoxy wood preservative although these products no longer contain a biocide that was previously added to minimise rot. Other products such red lead which gave such excellent protection as priming paint in traditional paint systems on timber boats are now almost un‐available and their use would now be frowned on due to environmental health concerns.
The company Worldwide Timber Traders was mentioned as a timber supplier worth a visit. Check their offering at http://www.timbertraders.com.au/
The second section of the talk gave an overview of the restoration work taken on by his company and the various skills that were available to carry through these projects. Probably the most comprehensive was the restoration of the 60 foot Halvorsen built Pollyanna, a vessel almost 60 years old and now in pristine condition once again.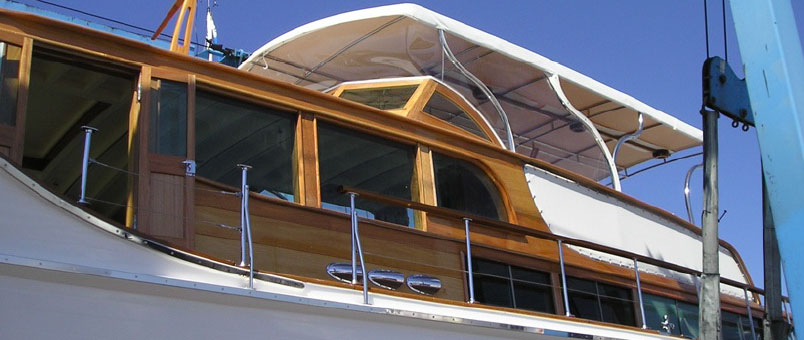 Another interesting restoration was on a traditional Ted Brewer designed cat boat built in Singapore and planked in Chengal, a timber that is extremely resistant to teredo worm. All these significant projects are well presented on his website at http://www.ajwshipwright.com.au/.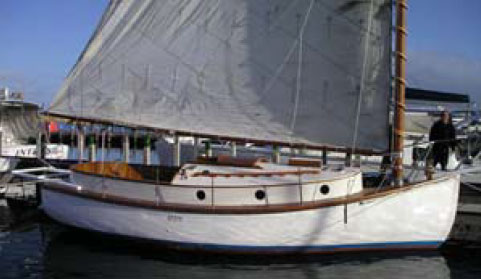 Finally Aaron spoke about the other division of his business, Legacy Nautical, which specialises in one-off traditional craft and prestige luxury craft which, with careful maintenance, will provide an enduring nautical legacy to future generations of family ownership or other custodians. He also spoke on Pea Pod, a small-craft boat building training project he is running. This gives people the opportunity to build a very pleasant and useable small‐craft while gaining a good grounding in boat-building skills.
All in all the evening was a great success giving useful information and lively discussion. We are indebted to Aaron for his time and effort and look forward to visiting his workshop in a later Toolbox Visit.