A VERY, VERY BIG CAT  –  ABOUT TO PURR! 
Our February Toolbox Visit took us to the premises of Legend Boat Builders where our host Craig Wilson is building a Schionning 'Wilderness' class catamaran. Schionning is an Australian based family company with in excess of 400 of its designs built worldwide. Their website at www.schionningdesigns.com.au has a vast array of information on their sailing and power catamarans and their plans and kits.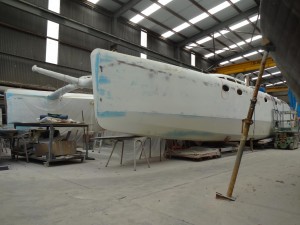 The Wilderness class ranges in size from 10.3 metres to 16.5 metres. Craig is building the 15 metre design this time, having previously built two 14 metre versions of the same design. She has a 7.5 metre beam and when complete she will displace about 6 tons, have an expected cruising speed of 12 knots and a top speed of about 20 knots. Craig is building her under survey and there will be no impediment to her carrying an Australian Builders Plate and being issued with a HIN Number when complete.
 Craig has been working about six days per week on this project for four years so far. This equates to 10,000 hours to date. This is reflective of the attention to detail and high quality of Craig's work when compared to Schionning's estimate of 8000 hours for a complete build.
The hull is end grain balsa with a significant carbon fibre content in the structural areas. The dagger boards – one in each hull – are also substantially carbon fibre. Floors are end grain balsa weighing 120kg/m2 and the roof is carbon/foam weighing 80 kg/m2. Craig has used micro balloons/microlight fillers with a sanding guidecoat spray in his fairing process. Top coats are generally a linear 2 pack polyurethane which is capable of being buffed.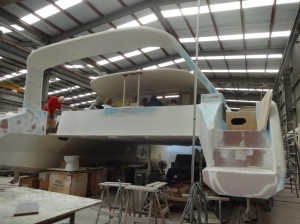 A particularly notable feature of Craig's project is the curved windows on the cabin. These are Shinkalight windows which have been moulded and curved to fit the three dimensional shape of the cabin exactly. In other areas of the boat, the hatches are Lewmar and toughened glass is used in the cockpit area.  All the internal furniture is modular – made from moulds that Craig has made and will be used again.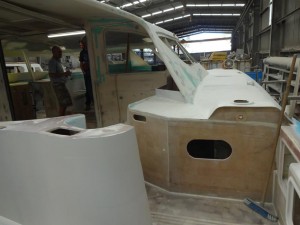 Accommodation includes 3 double, 1 single berth and 2 shower/toilet/bathrooms – 1 per hull. The main living area is within the enclosed cabin but the back end of the cabin can be hinged open to allow this internal area and the external cockpit to become one large living area. There is also an internal navigation station with auto pilot facility.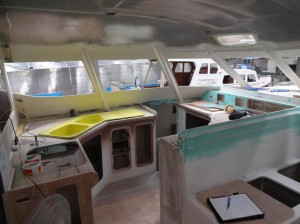 Remote access is provided to the hydraulic steering from both sides of the vessel but the main helm on the port side. There is a manual tiller on one side only for emergencies.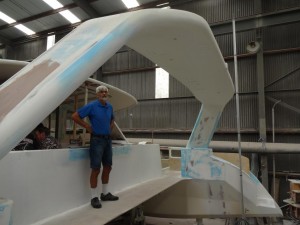 Propulsion when not under sail is from two Nanni 38 HP saildrive diesels – one in each hull. These are 4 cylinder Kubota diesels marinised by Renault and marketed under the name Nanni. These will drive folding propellors Ewol, Autostream or Brunton.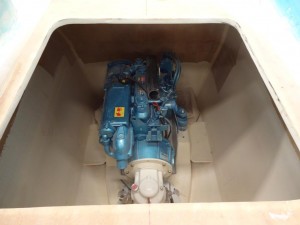 Solar panels are located on top of the targa roof aft of the main cockpit and provide charging to the vessel's batteries. Engine breathers are under the targa roof which also provides the structure below which the dinghy is hung.
The rig is a static (rather than rotating) aluminium mast, 18 metres high with a chord dimension of 250mm. It will be a double spreader rig with the lowers well in board and the forestay attached to a prodder (bowsprit) supported by the forebeam which has been curved and structurally enhanced for this purpose. This rig will carry a 60m2 mainsail and a 40m2 jib as the basic sail plan. A screecher and a spinnaker will also be included in the sail wardrobe.
 Craig is intending that this massive project will be completed by next Christmas. Prior to leaving the shed, Craig intends to commission all the systems aboard (engines, hydraulics, calibration of fuel level gauges etc). Then will come the delicate task of moving this huge vessel out the end of the shed and to a launching location not too far away in Cockburn Sound.
 Craig indicated that the boat is available for sale at the right price but if this doesn't materialise he'll be off on a bit of cruising himself.
 Clearly, this is a very large project and Craig's standard of construction and workmanship and final finish is of a very high standard. We thank Craig for allowing us to inspect his project at this interesting time so close to its completion. We wish him 'good sailing' for the remainder of the year and hope all goes well for the removal from the shed and the launching.