EUN NA MARA – BIRD OF THE SEA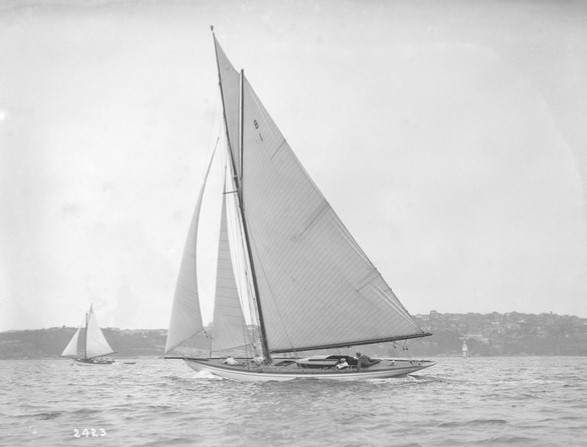 Eun Na Mara was originally designed by William Fyfe of Scotland as a gaff rigged cutter. She was launched in Sydney in 1907 with the name Awanui. She was later named Culwalla III but this was again changed to Eun Na Mara in 1910 and registered at the Royal Brighton Yacht Club in Melbourne.
 When Eun Na Mara was bought to Perth by Neil McAlister, she had a Bermudian rig. After Norm Cocks became her new owner she was sailed from South of Perth Yacht Club for many years. Along the way she returned to Victoria for an extensive restoration that included a new mast and dynel sheathing of the hull. Following this work she was successfully sailed on the east coast. A few years ago, Eun Na Mara was bought to Perth by her current owners, Ralph and Lynne Newton and has returned to her former home at South of Perth Yacht Club. These details come from Rick Steuart's informative website www.perthsailingphotography.weebly.com. Rick's site documents the work being done so far on Eun Na Mara together with excellent photographs. The site will continue to be updated as the work progresses.
ABBA members and friends were fortunate to be invited to spend a few hours on a rainy Saturday afternoon in July listening to a presentation by owner Ralph Newton and ABBA life member and Naval Architect, Kim Klaka followed by a guided tour of the work done so far with refreshments by Mike Wade and Peter Russell.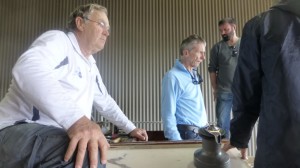 Ralph's association with Kim Klaka started some time ago when Ralph stood on the coach house roof at the base of the mast and felt the roof move a little more than he was comfortable with and noticed the 10-15 degree mast tilt. Little did Ralph realise that this little problem would lead to the major renovations being undertaken at the Maylands Amateur Boatbuilding Yard. Ralph is working full-time alongside shipwright Nic Truelove with guidance from Kim.
 Kim Klaka, spoke about the 3 aims of the project
Make the vessel structurally sound.
Return the appearance and design back to the original configuration where practical.
Make the boat easier to sail and hence reduce the number of crew.
 The work required to achieve these aims include;
Changing from a masthead to a 3/4 or 7/8 rig to replicate the 1931 configuration.
Lifting the gooseneck fitting 300 – 400 mm to raise the boom while retaining the current sails with only minor re-cutting.
Fitting a furling headsail to make it easier for the crew.
Removing the reverse stern and rebuilding it to replicate the original traditional transom design.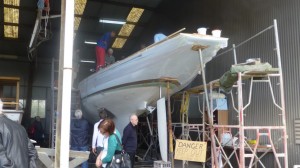 Ralph spoke about some of Eun Na Mara's history and pointed out some of the problems that started him on this project together with some problems that have only recently been uncovered.
 At some stage the original keel-hung rudder was surgically removed with a chainsaw and replaced with a dagger rudder.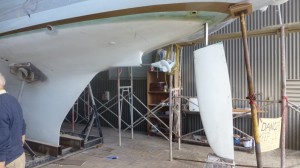 The inadequately supported mast was tackled by reinforcing the existing aluminium bulkhead and rebuilding the mast step. Ralph can now stand at the base of the mast without there being any noticeable deflection.
At some time in her long history, 30x30x8 steel angle frames secured with steel bolts were installed. These had corroded and fell apart when handled. These frames will be replaced in timber. Similarly the metal bow structure was removed and rebuilt in timber.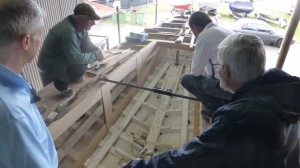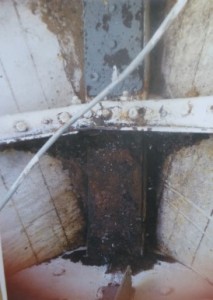 A disaster waiting to happen was the severely corroded sections of the aluminium chainplates which were hidden from view. These have been replaced with stainless steel.
The reason for rudder shimmy found to be due to corrosion around the boltholes of the aluminium rudder post support.
The boat will be set up for river racing but removable stanchions will be fitted for the occasional ocean race. Ralph intends to enter a Bunbury and possibly a Geraldton race. A teak deck will be fitted and Brazilian mahogany will also be used in the re-fit. There will be 120mm bulwark to keep some of the water out and new rubbing strakes. Waterproof covers will be made to protect the timberwork.
 The boat was originally planked with New Zealand Kauri but after only 5 years it was replaced with 25mm Huon Pine. The hull was later Dynel sheathed but the hundred year old Huon Pine underneath is still in perfect condition.
 The 30 hp Volvo MD203 and Hurth gearbox pushes the vessel along at 8 knots.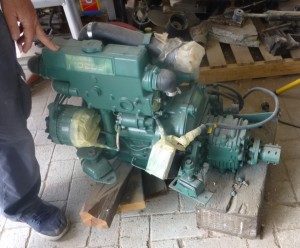 I am sure that with the well thought out repairs and restoration, together with the obvious high standard of workmanship and hours of hard work, we will soon see the 109 year young, Eun Na Mara back on the winner's list.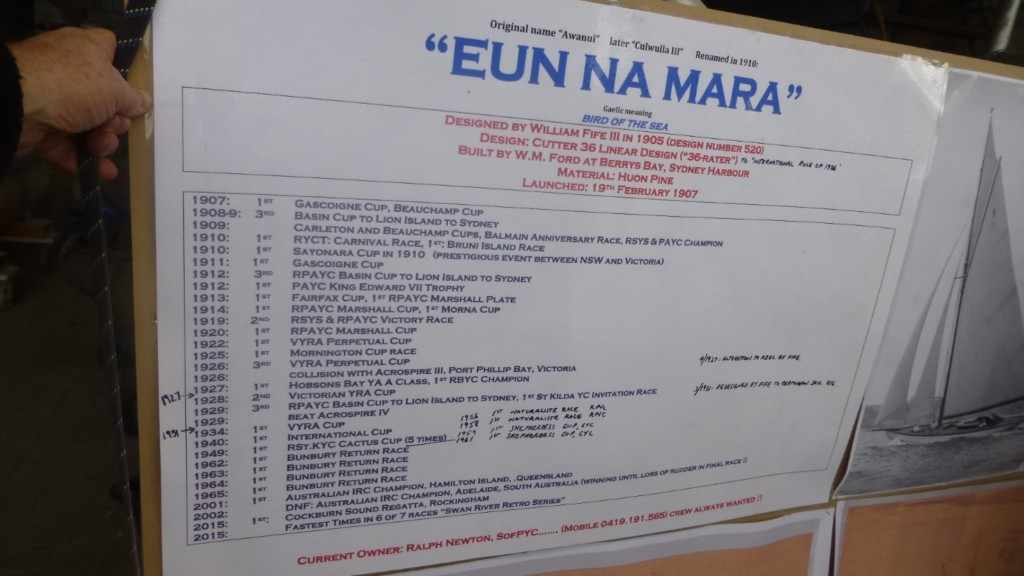 Many thanks to Ralph, Kim and Nic for generously giving up their time to enable ABBA members to gain an in-depth appreciation of the restoration of this Classic of Australian sailing history.