A  PRETTY  TRADITIONAL  FIFTEEN  FOOTER
Our first Toolbox Visit for 2015 was to long time member Michael Wade's workshop in Kalamunda. Mike is building a "Navigator" designed by New Zealander, John Wellsford. This is a 15' long sloop rigged, open sailing boat. The plywood construction appears to be multi chined (4 per side) but is actually of lapstrake construction with five major plywood panels comprising the bottom and sides each side of the keel area. Members had previously visited Michael's project at the upside down framing stage and at the turnover stage so it was great to see her much nearer to completion during this visit. In this regard, the construction details have been well described in the March April 2003 newsletter (follow the Library tab on the website www.abba.org.au to access all the previous ABBA newsletters)
The major statistics of the Navigator are as follows;
Length  14' 10"  (4.5m)
Beam  6'    (1.8m)
Draft    3'4"    (1.0 m) approx board down
Weight  308 lbs  (140 Kg)
Sail Area   136 ft2  12.6 m2)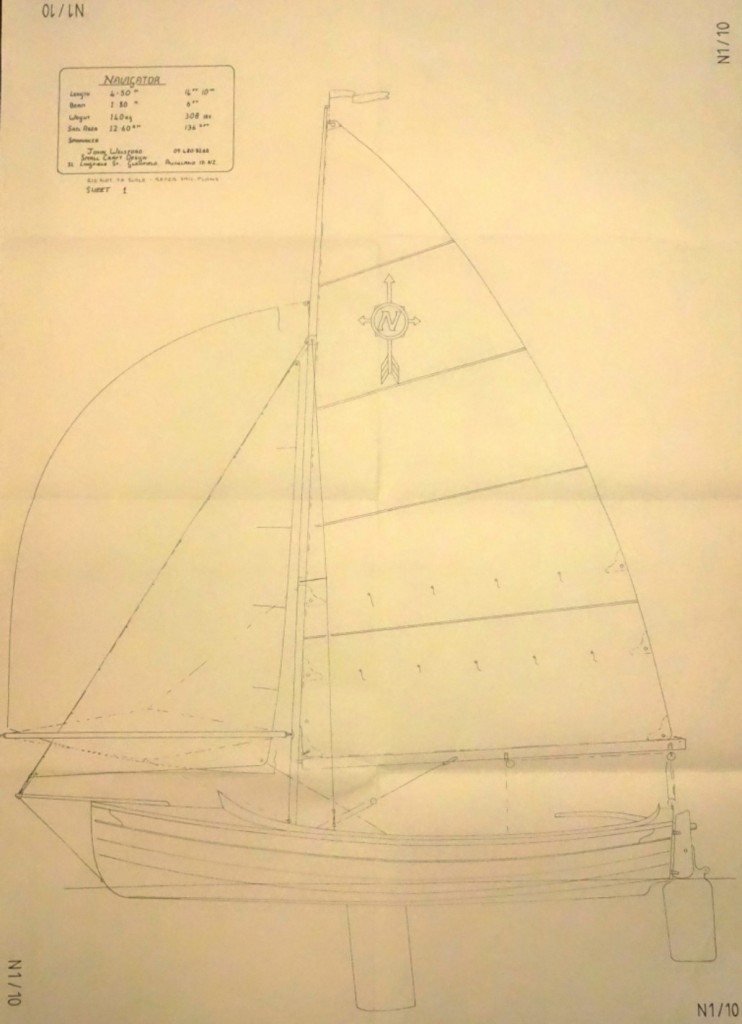 The Navigator is constructed over a building frame with frame stations at 500mm centres. The frames and bulkheads are from 6mm ply forward and 9mm ply from amidships aft, doubled up at the stringer notches. The transom and deck are both 6mm ply.  9mm is also used in the bottom panel and the centre case sides while three layers of the same material are laminated up to make the stem. The second to fifth strakes, or panels, are 6mm ply, which will make the boats lighter above the waterline.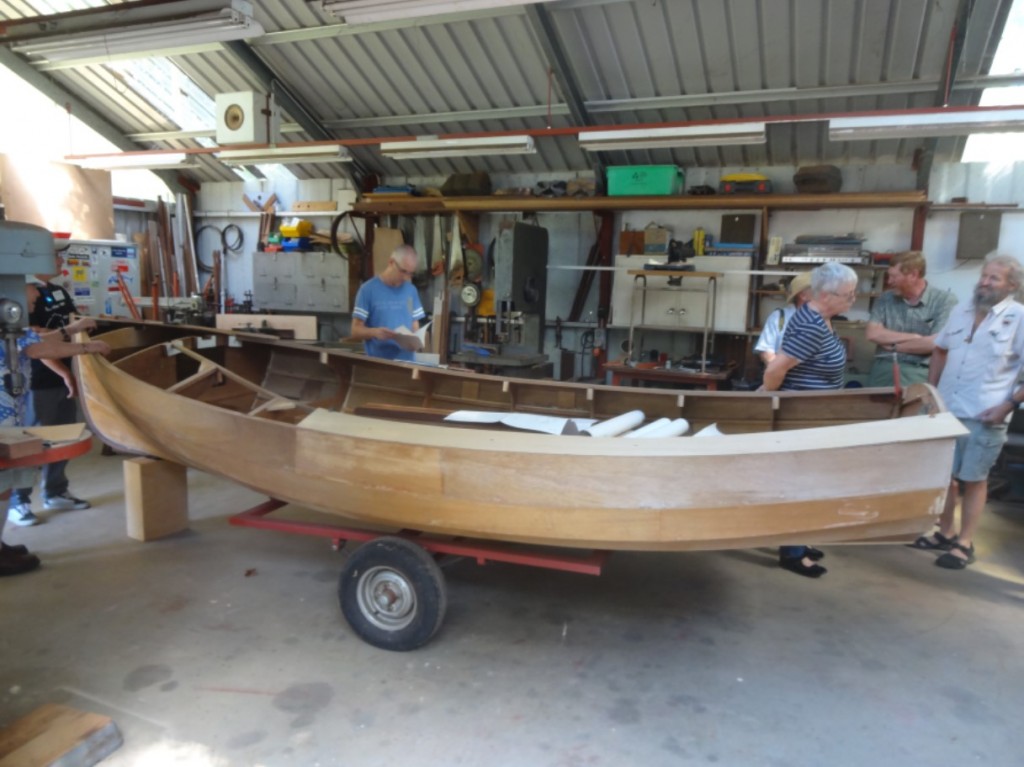 The centre case has an internal width of 50mm, a chord of around 500mm and an overall length of 1.3m. This sounds fairly massive but the drawings detail the aerofoil section to be developed below the waterline in full scale so there is a good deal of timber to be faired away. This boat will not be a lightweight – it's being very solidly built and looks set to be a very stable cruising/coastal camping vessel rather than a racy dinghy. The drawings indicate that the final waterline is based on an all up weight of 440 Kg so with some allowance for mast, sails and rigging she has the ability to carry something in excess of 250 Kg of camping gear or afternoon tea, whatever you choose to use her for.
The drawings detail three alternative rigs – gaff/gunter, sloop and lugsail. Mike is planning to rig his Navigator as a gaff-rigged sloop .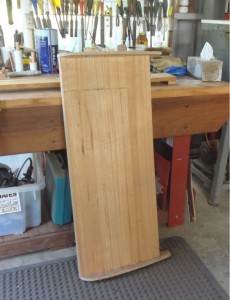 And as our long time scribe Mike Beilby observed during the last visit, boatbuilding is far from being Michael's only hobby. He's into old machinery from tractors through to workshop tools and machines and is currently restoring several of them. He's also built sailplanes in the past so he's more than capable of high quality woodwork. Once again it was an extremely interesting visit, followed by a fine afternoon tea, and we thanks Mike and Sheila very much for their hospitality.