MARINE ELECTRONICS
Our toolbox visit on Saturday 1st November was hosted by Peter Turner of Maritime Electronic Services, a company specialising in marine electronics and located in Fremantle at the Fishing Boat Harbour. Maritime Electronic Services is a family business which has been providing marine electronics equipment and support services to WA's recreational and professional boating sectors for over 40 years.  The company sells, installs, services and repairs an extensive range of marine electronic and electrical equipment including, amongst others, marine radios, EPIRBs, depth and speed instruments, GPS chart plotters, autohelms, magnetic compasses, radars and navigation equipment.  Peter is the owner and Managing Director of Maritime Electronic Services and has been with the company for almost 16 years.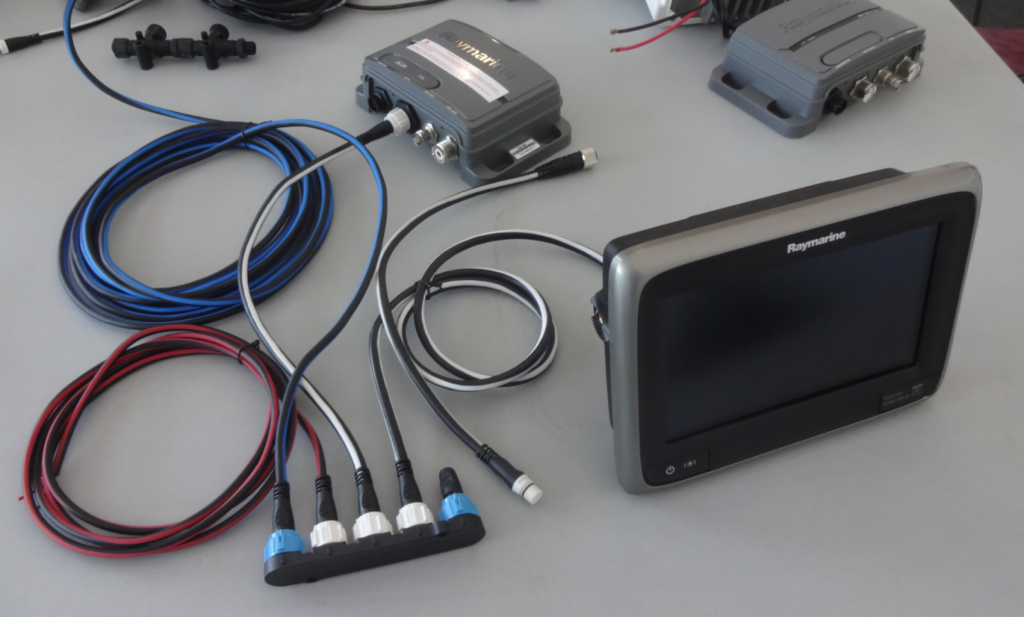 Peter kindly provided us with a 'tech meeting in a toolbox' and began by explaining each component of entry level equipment that he had laid out on the bench and how it was wired together in a system suitable for small powerboats and yachts.  He began by explaining how the main cabling or 'backbone' of the system had changed over recent times. Older equipment was wired with power cabling to each component and a two separate wires for the signal. The modern arrangement is based on what he called the NMEA 2000 standard and comprises a five pin connector and back bone system that fits together in a 'plug and play' way like a meccano set — and looks more like a plastic pipe system than a wiring system. The system carries both the power and the signal wiring and needs only the addition of a resistor component (or terminator) at the blank ends of connectors to complete the circuits. It is also interchangeable across manufacturers with some providing their own adapters to interface with the standard NMEA 2000 system. Coming off a 'T' in the backbone, there can be a maximum of five metre spurs and pre terminated backbone cabling is available from half a metre and in increments of half a metre. The whole system assumes a digital environment but some older equipment can be connected via an analogue signal converter.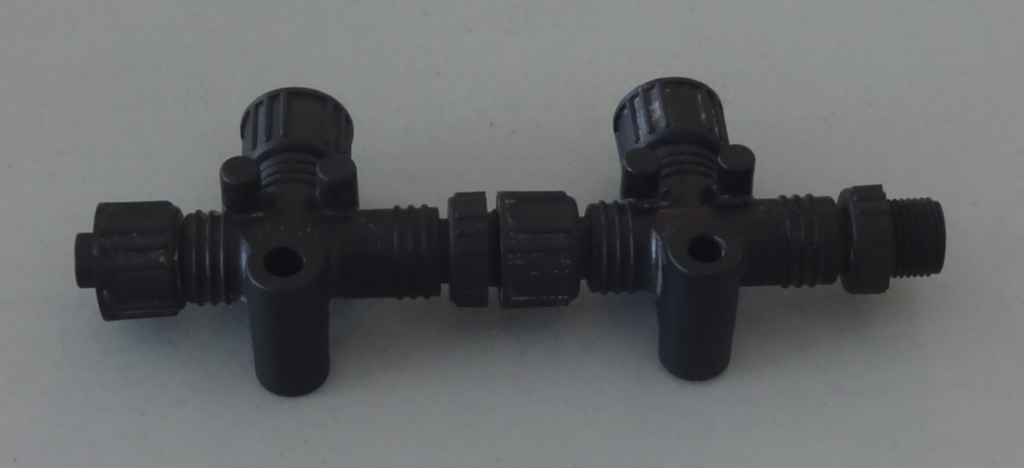 Marine Radios
The most recent marine VHF radios are fitted with 'digital select calling' (DSC) which requires a GPS input and an ID number called the MSI number. In an emergency situation, the DSC facility potentially allows vessels nearby to provide a 'DSC response' more quickly than might be achievable via more formal means (eg activating an EPIRB).
 Instrumentation
Peter showed us several brands of instrumentation in which the primary sensor is connected to the receiver and readout screen via wireless technology. This is particularly useful for wind instrumentation mounted on the top of masts which has to date been hard wired back to the screen. Wireless technology uses a receiver unit as close as possible within the hull which is then hard wired back to the screen. Peter showed us a Raymarine Tactic and a Garmin Nexus — both of which use this approach.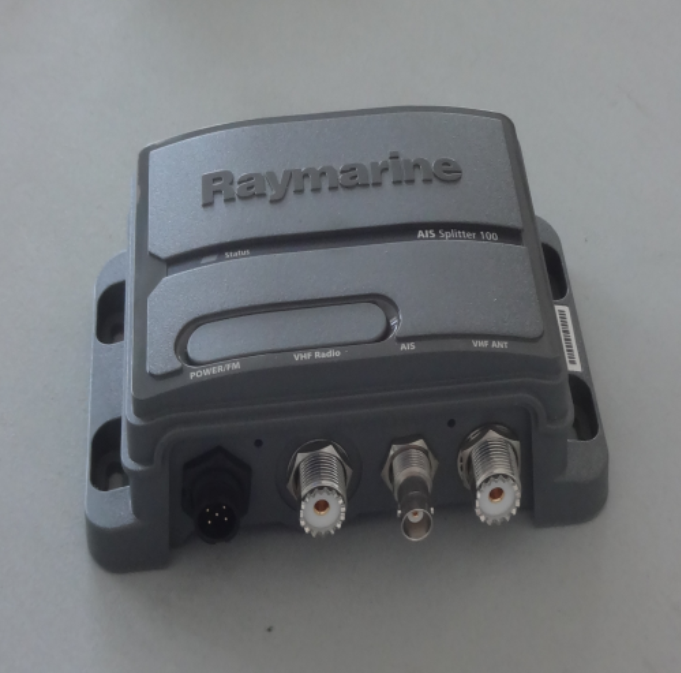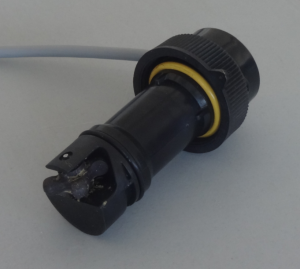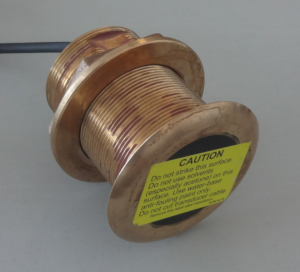 Transducers
Older style miniature paddle wheels are still used but these are now combined into one unit with the depth sounder sender. Depth sounder transducers are also now available with a mobile sending element internally mounted so that it counteracts any out of vertical mounting of the main housing in the boat.  In this regard, Peter pointed out that some units have the ability to dial in an offset to allow for known factors that may impact the accuracy of the readings. Nevertheless, it is important to mount the housing where the signal can get clear to the bottom.
 New technologies are also available that transmit over a bigger cone width which enhances information for such things as fish finders.
 Plastic transducer mounting blocks are available that can be sliced to suit the angle and curvature of the hull with one 'half' of the slice then mounted on the inside of the hull and the other 'half' mounted on the outside so that the actual transducer remains vertical.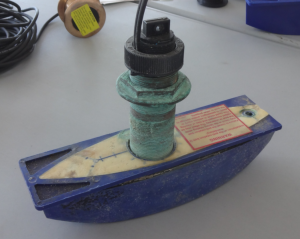 Chart Plotters
Peter then moved on to explain the features available in entry level chart plotters using Raymarine equipment on functional display in his showroom to demonstrate their various functions. Five and seven inch plotters can split their screens into four and have some touch screen facilities that appear to operate in a similar manner to mobile phones. These screens are of the order of $700 for the basic screen only.
These unit can be built up over time to ultimately provide readout for fish finding, radar, speed, depth, man overboard as well as the normal waypoints, anchor alarms and shallow water alarms. The screens can be customized to the user—for example so that the screen shows course up or north up.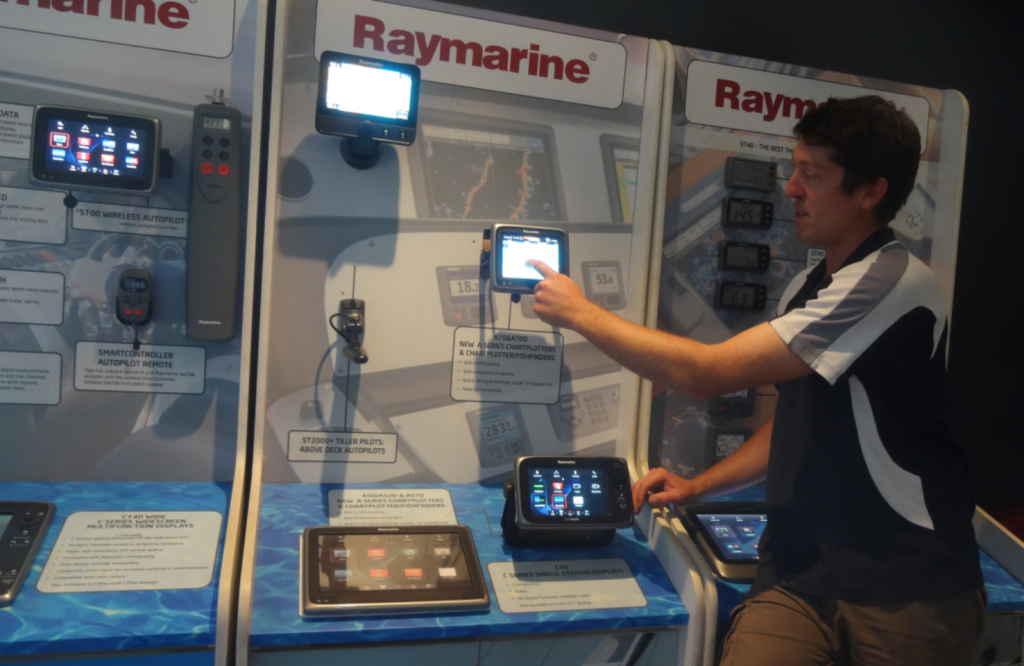 In addition to chart plotters, separate readout display units are available in various configurations for  all areas of instrumentation — either in a square or a rectangular format — and to read single or multiple sensor feeds eg speed only or speed and depth.
 Auto Pilot
An example of the small compass driven auto pilot is the Raymarine Tiller Pilot which Peter also had displayed in the showroom. These types of units are available for either tiller or wheel steering systems and can be remote controlled. They will interface with chart plotters to automatically steer to waypoints.  Several capacities are available and range in price from around $800 to $2000.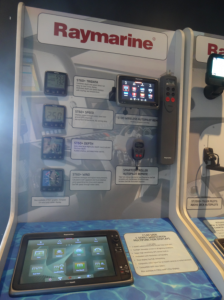 Communications
The afternoon closed out with a short wrap of  communications for off shore applications. Peter pointed out that demand for HF radios (around $5,500) is now decreasing in favour of Iridium (Motorola) or internet SAT phones which are about the same cost overall but have access to a much wider range of information.
This was a very informative afternoon on a subject that we have not previously engaged in. ABBA thanks Peter Turner for preparing a very appropriate range of equipment to brief us on and for taking time out on a Saturday afternoon to share his considerable knowledge with the small group of members who attended.