THREE SHOW 'N TELLS
Our October tech meeting commenced with a short Annual General Meeting but the more interesting part of the night was three members who addressed us on their boats, projects and adventures in a Show 'n Tell format. Hon Treasurer Bruce Cadee led off, followed by Committee member Rosemary Nayler and the night was closed out by President/Editor Chris Davis.
Taurus — Bruce Cadee
Bruce's project is a 23 ft Jarrah and Baltic Pine motor sailor which was designed and built in East Fremantle by Ken Crabbe in 1952. Under sail it has a jib and mainsail and the power plant is a two cylinder, 23 hp Arona diesel. When Bruce purchased it in 2011 from a Mandurah seller, the advice was that everything was in good condition — So WHY Bruce are you restoring it? You can work that out yourselves from a small sample of the before and after shots that follow.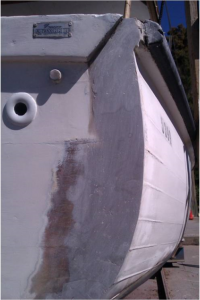 Rot in the transom and aft end planks
Rot in cabin sides being cut out and replaced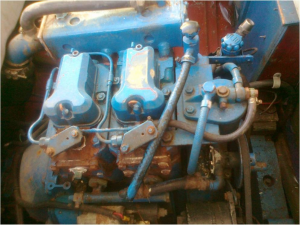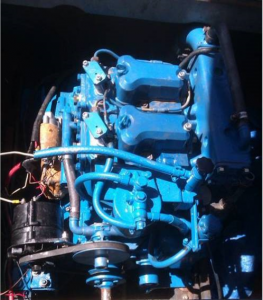 Engine before and after rebuild
Bruce's pride and joy – the helm, looking a whole lot better
SOON V — Rosemary Nayler
With acknowledgment of Soon V's designer and builder Eric Sabin)
Rosemary and Paul have recently made the difficult decision not to proceed further with the restoration of their 30 ft Van de Stadt Dogger class yacht and to search out a suitable smaller vessel that is 'sail ready'. In their search for that boat one might say that they have hit the jackpot as Rosemary further presented to us on the night. The boat they have found and purchased is a trailerable 6.6m (approx 22 ft) yacht built using the foam cored composite construction technique by Eric Sabin, a well known identity in Perth/Fremantle sailing circles and a very accomplished amateur boat builder. Eric designed Soon V himself and built her in twenty months at the age of 84 years. She was launched in December 2008 and Eric sailed her for some years before the previous owner to Rosemary and Paul purchased her. Her vital statistics and some photos follow.
Length Overall 6.6 m                                                  Displacement 750 kg
Length Hull 6.1 m                                                      Ballast Lead Bulb 300 kg
Length Waterline 5.8.m                                             Water Ballast. 90 kg
Beam Max 2.5 m                                                       Sail Area: Main 10.5 sqm
Beam Waterline 1.62m                                                            :Self tacking jib 6 sqm
Draft – Keel up 0.42m                                                Keel down 1.3 m
Motor 5 HP O/B
A particularly unique feature is that her mast and sail plan have been specifically designed so that she can sail under the Fremantle bridges without lowering the mast.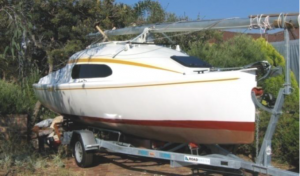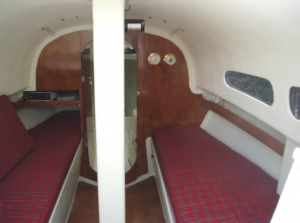 CHRIS and DON – A LIFE IN BOATS
Chris took a slightly different approach to the other two speakers in that he gave a presentation on the various boats that his father, member Don Davis, and he had built or been associated with over a period from pre 1930 to the present. The story commenced in the mid 1920's with Don learning to row on a model fettlers trolley built by his father, a fitter and turner at the Midland Railway Workshops.
Later, pre WWII, he acquired his first two yachts, Bluebird and Bluebird II, which were made from galvanized sheet metal and sealed with road tar. Both were the means to a number of expeditions from Maylands down river on the Swan.
 The building of the third Rainbow class yacht (named Mystic) followed, achieved not via plans but by measuring from the first yacht of this now popular design built by the designer Ron Hill who           happened to live a few doors up the road in Fairway Nedlands. The immediately pre WWII, Don was a keen crewman on 16 foot skiffs, which were a big class on the river at that time sailing from Mounts Bay and Mosman Bay Sailing Clubs. He sailed on Noreen pictured below.
When the war was over, Don and his mates got going again. This time building a 28 foot Voyager class yacht — a class designed and built in some numbers by respected local boat builder Arthur Bishop.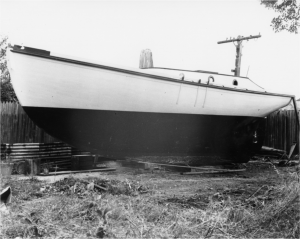 So Don was an experienced amateur boat builder by the time Chris helped his father build a heron dinghy at age twelve in 1965.
And so Chris, having commenced his boat building journey continued with a number of dinghies. A second heron followed the first—this one purchased as a half complete project requiring a deck, fit out and rigging.
A move to the 14 Ft Dinghy Club with the heron fleet led to a stint in 14 Ft dinghies and the conversion of a plain painted 14 into a varnished cedar masterpiece. It didn't sail any better though!
Somewhat uncompetitive in 14's, Chris and his skipper (brother Brian) decided to move to the bigger brother of the Heron—the GP14. Chris purchased new fiberglass hull and fitted a cedar deck with all the trimmings. This boat, named Mystic II after Don's Rainbow, crossed the Nullabor and came third in the National Championship on Port Phillip Bay at the end of 1975.
Over the years, Chris had sailed socially on larger vessels at RPYC and spent some years 'boatless' in the early 1980's before the attraction of  a character vessel crying out for restoration got the better of him in 1987. Argosy, a jarrah plank gaff cutter, was (and still is) the next major project.
More about Argosy can be found on the ABBA website www.abba.org.au, Library, Newsletter Oct Nov 1999 and Sept Oct 2007
Along the way, member Mike Igglesden regained ownership of Merry Jest, a timber GP 14 that he had built in 1965 and skippered to a win in the National championships the next year. Having sold his Mystic II some years before, Chris contributed his boat trailer and some storage space by way of a caretaker role for Merry Jest. Chris subsequently completely stripped the external hull and refinished the   varnish work  –  for much of the hull still nearly looking as good as it did when new almost 50 years ago.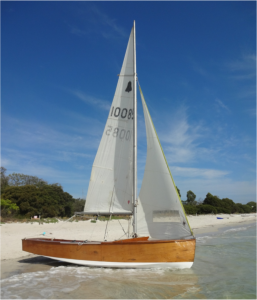 As time moved on, kids got older and time got shorter it became apparent that getting kids onto the water in Argosy wasn't going to happen. Whilst keeping a weather eye out for a small motor sailor or similar to fill the gap, Chris became aware of a yacht with shoal draft and a steel centerboard for sail in a pen at RPYC. The family didn't take much convincing and the 28 ft round bilged Boro designed Sequana has now served his family well for the past nine years on the river and to Rottnest. See the Toolbox write up on the ABBA website www.abba.org.au , Library, Newsletter July August 2012.