MAGGIE — A SUPERCENTENARIAN AND SOME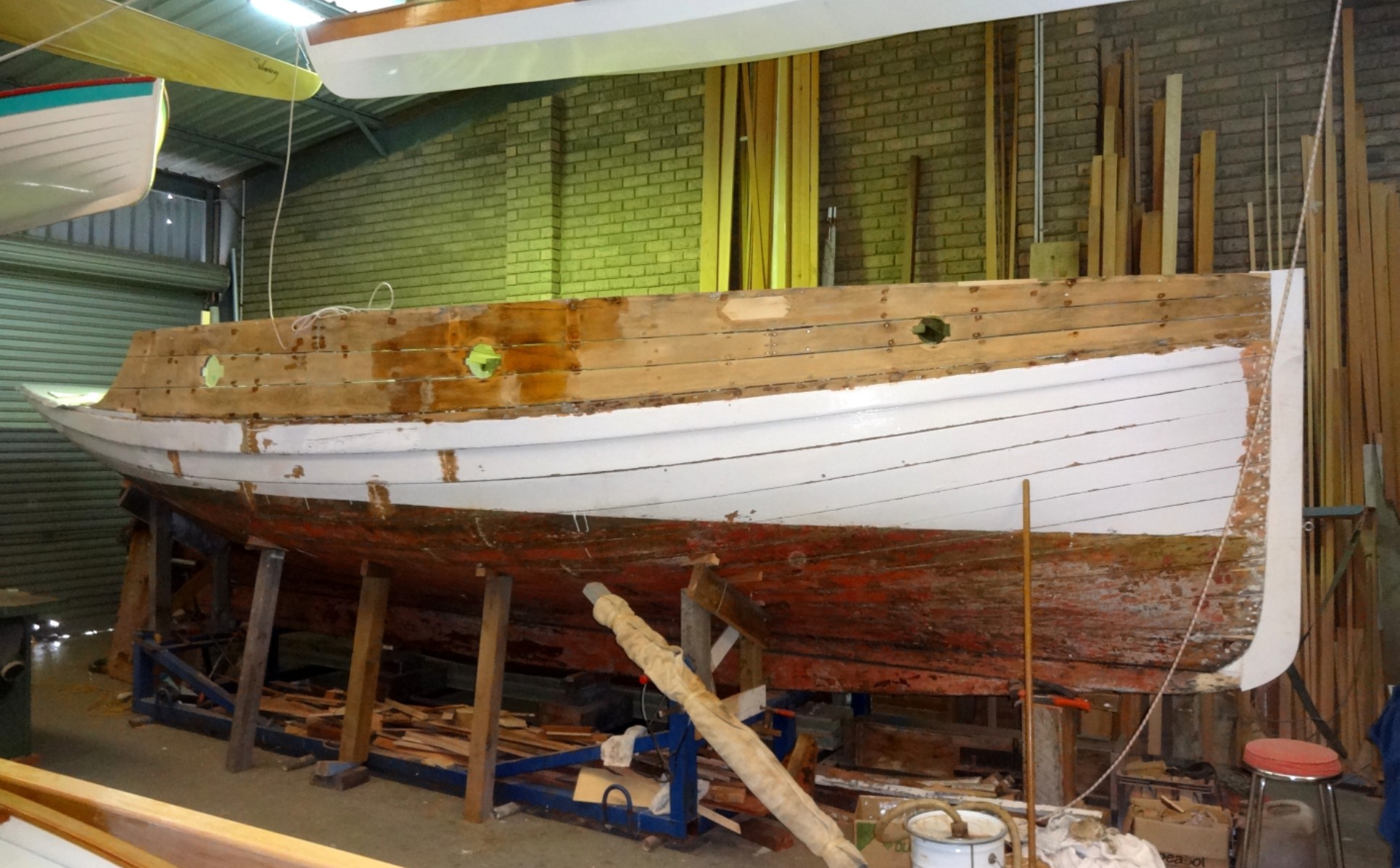 The September Toolbox visit was to the workshop of shipwright, Igor Bjorksen to see an old gaffer he is restoring.  Igor has been working on boats since he was nine, this being as a volunteer in the restoration of a schooner in Melbourne.  After ten years on this project, he went to sea on square riggers, sailing on the Leeuwin when first launched, and skippered various sailing ships during the 1990's.  He also worked as a rigger during construction of the Endeavour and Duyfken replicas, and as a shipwright on the Duyfken.  He has travelled throughout Australia and overseas as an itinerant rigger, but having met his wife-to-be whilst sailing, and with the arrival of kids, he put down roots in the steady vocation of shipwright (though he still carries out rigging work for the Leeuwin and other Oz based ships).  Initially, he was based at C-Shed, Victoria Quay, before moving to his current workshop when C-Shed was closed.
Igor's current project that we went to see in his workshop was Maggie, a gaff cutter, owner built in Tasmania to an unknown racing design and previously named Ethel. Having been brought to WA, she has for many years been moored on the Swan at Freshwater Bay.  Following a beaching due to a broken mooring, her owner has decided to have her fully restored.
Maggie was built in 1886 and is therefore 128 years old. She is a gaff rigged cutter with a 6 foot bowsprit and a boom that extends right to the stern. She is thought to have originally been an open racing boat and the original shear line can still be seen. In earlier times, she was shorter and had a transom approximately above where the propeller now is. She had a varied racing career under a number of rules until she was retired from racing in about 1920. She was converted to a cruising yacht with (as was common for Tassie conversions) a cabin being built out to the gunnels above the shear line forward as she appears today. She has also been lengthened to a fine stern well beyond where the transom originally was and a Tasmanian oak false keel secured with bronze bolts has been added.
She has no centreboard and ballast is all internal. This is mainly in the form of lead internal ballast, but there is a block of concrete under the engine bed which has been left in place in the current restoration. In fact, Igor advised that concrete in old wooden boats is a good thing. She is ribbed with Blackwood which is very readily bent and steamed but does suffer from rot over a very long period of time. Her planking is Huon Pine and NZ Kauri and the planking is batten seamed ie. the seams are backed up by battens nailed inside, behind each seam. The planking is fairly lightweight being only 16 mm thick and the joints in the planks are scarfed. There is evidence around the dead wood area that she may have been copper sheathed at some stage and there is no evidence of any worm attack.
The brief for Igor's restoration project is to maintain as much of the original as possible. Given the extent of the restoration, Igor suggested that the cost would be not dissimilar to building a new boat of the same design from scratch. He has undertaken a considerable amount of re-ribbing using copper fastenings in the traditional manner. The ribs were steamed into shape but Igor did indicate that soaking ribs is actually better because they cannot be 'overcooked'. When steaming, he suggested that the ribs be soaked overnight prior to steaming as this substantially assists the steaming process. (for Karri, the rule of thumb is 15 minutes in the steam box per quarter inch thickness of rib). Unlike the ribs, the planking is generally in good shape as would be expected with this type of timber. A major part of the job has been to replace the stem post entirely which has allowed refixing of the planking to the stem with silicon bronze fastenings throughout.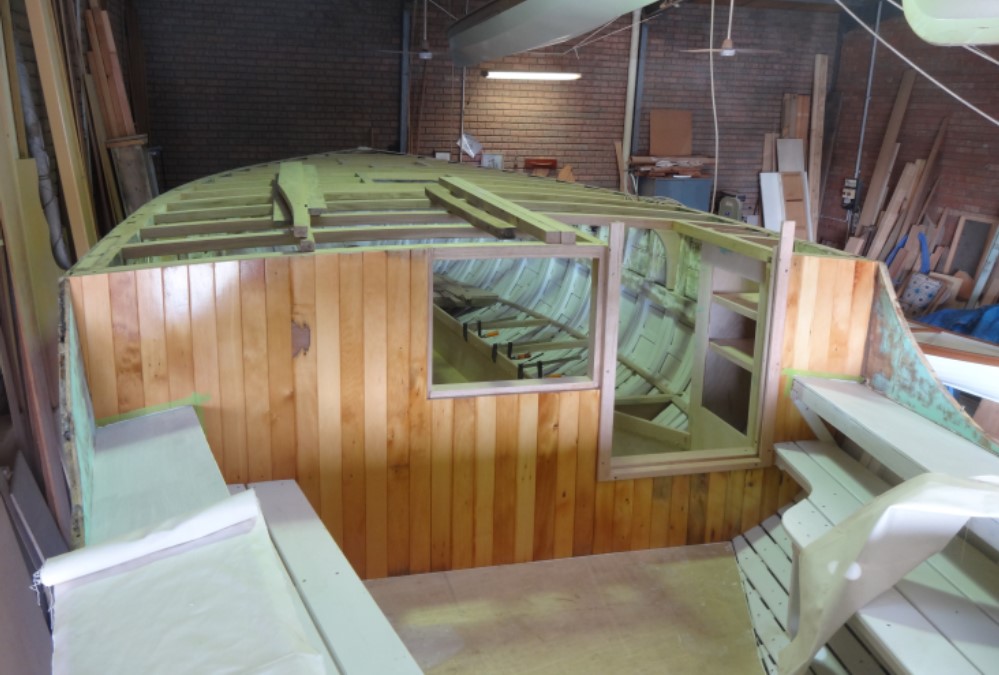 Igor has now completed the replacement of deck beams with laminated Victorian Ash (this is the same timber as Tasmanian Oak he tells us). The current work is to construct a basic fit out to the interior of the cabin whilst the deck is still open and hence provides better access. When this is complete, Igor will be planking the foredeck with tongue and groove Baltic Pine similar to the original and then using a traditional canvas covering technique to seal over both the foredeck and the aft deck, which has already been completed in plywood.
In regard to planking the question was asked about what type of caulking would be used. Igor indicated that there were 3 possible methods. He favoured routing the seam lines and inserting a Western Red Cedar spline. The spline would have a 2 degree taper and be sized to be inserted only half the depth of the seam. The spline would be glued with Resorcinal. Alternatively, Sikaflex or a more traditional cotton caulking method may be used. No decision on this has been made with the owner at this stage.
The engine is a very old one cylinder Yanmar with open valves and a large flywheel. Igor informed us that the model was unknown to Yanmar but given the castings are clearly Yanmar there is no doubt about its heritage. The engine is being completely overhauled elsewhere and is nearing completion ready to reinstall in the boat when required. Igor has been working on this project in conjunction with other work for about 10 months and there is a little way to go yet!
Another project that Igor is progressing is the building of a timber mast for the original Randall Rugged. This has reached the varnishing stage but Igor gave us some insight into the construction method. The mast is square and therefore had to be constructed very straight as there is no potential for correction in any rounding process which might be the case for a round mast. The mast was constructed as a box section and glued using Resorcinal which Igor prefers to epoxy for this application because it doesn't break down in the UV. Prior to gluing, the mast was varnished internally and a conduit fitted for electrical cabling. Resorcinal requires very clean surfaces and the gluing process involves pre-priming with water to slow the glue drying process. Resorcinol also requires good clamping pressure whilst the glue dries. It initially cures within 24 hours but a full cure takes 4 to 5 days. Igor noted that Resorcinal is convenient to use as it cleans off in water.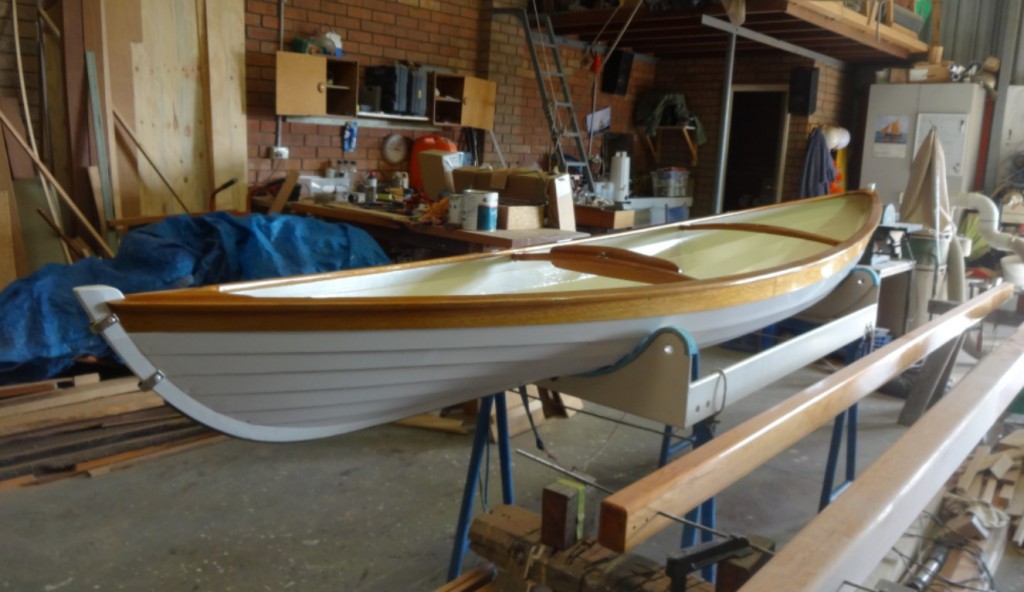 Hanging in the roof were another few of Igor's creations. One a sailing canoe with weighted leeboard which he had designed himself and another double ended Pete Culler design. There was also a 10 ft clinker dinghy which Igor had designed from a 12 footer but built with the beam of the 12 footer.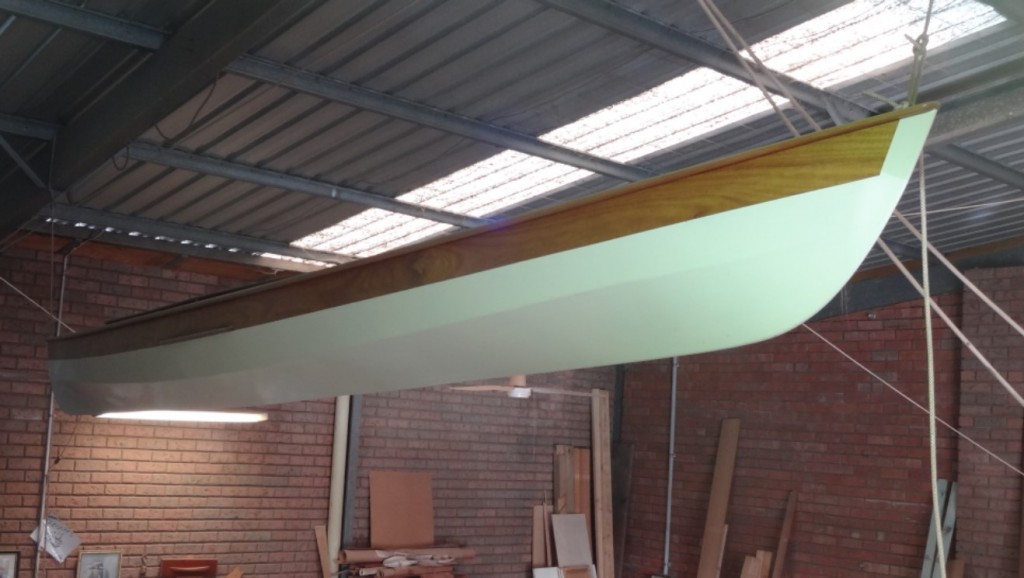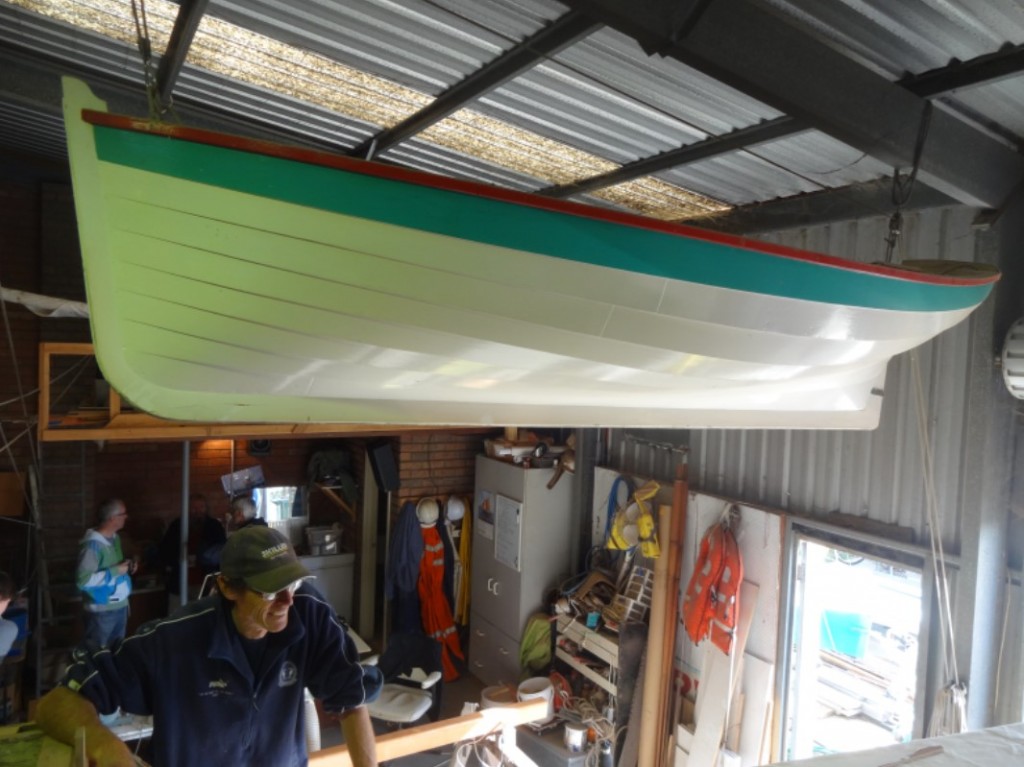 During our visit, Igor kindly organised for us to inspect the projects in the adjacent shipwright's premises. Here we were able to see the original Randall Rugged design sloop (named Rugged) undergoing a major refurbishment.  The hull had been stripped back to bare timber and was in course of being entirely epoxy sheathed to a very high standard. A refit was in progress internally and a new deck and cabin were to follow.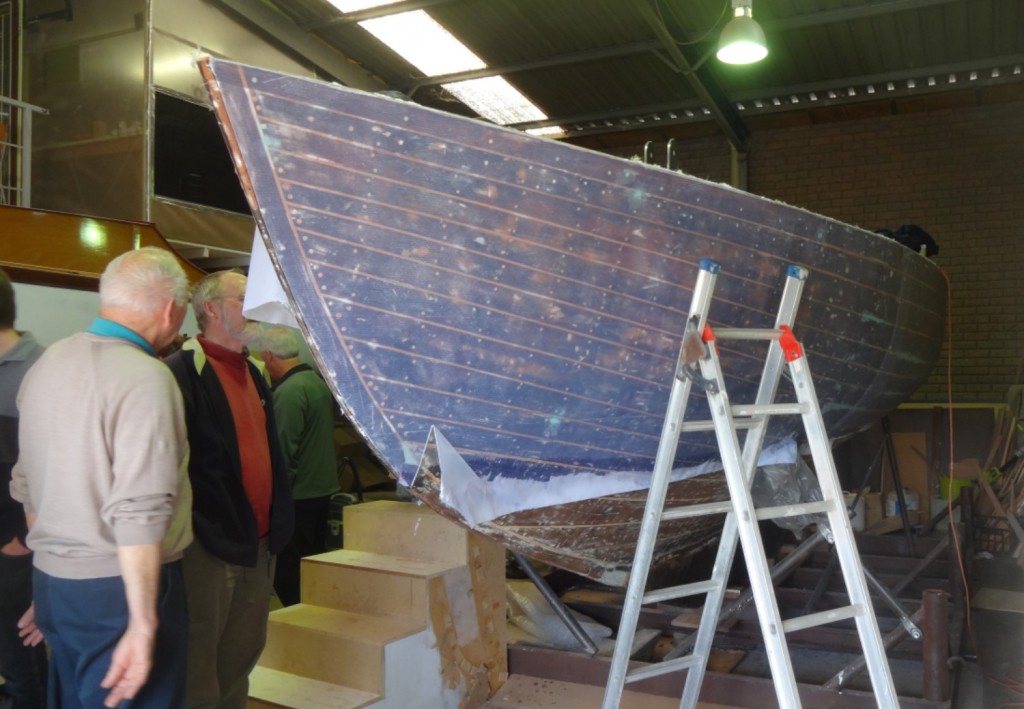 In the same shed was Delta, a well known old gaffer that has been seen at many Old Gaffer's Association gatherings on the Swan River over the years. She is undergoing major refurbishment and now looks considerably better than when we last caught sight of her in the Legend Boat Builders premises during a visit to see Brian Philips building of a 'modern' H28 five years ago (see Newsletter Nov/Dec 2010).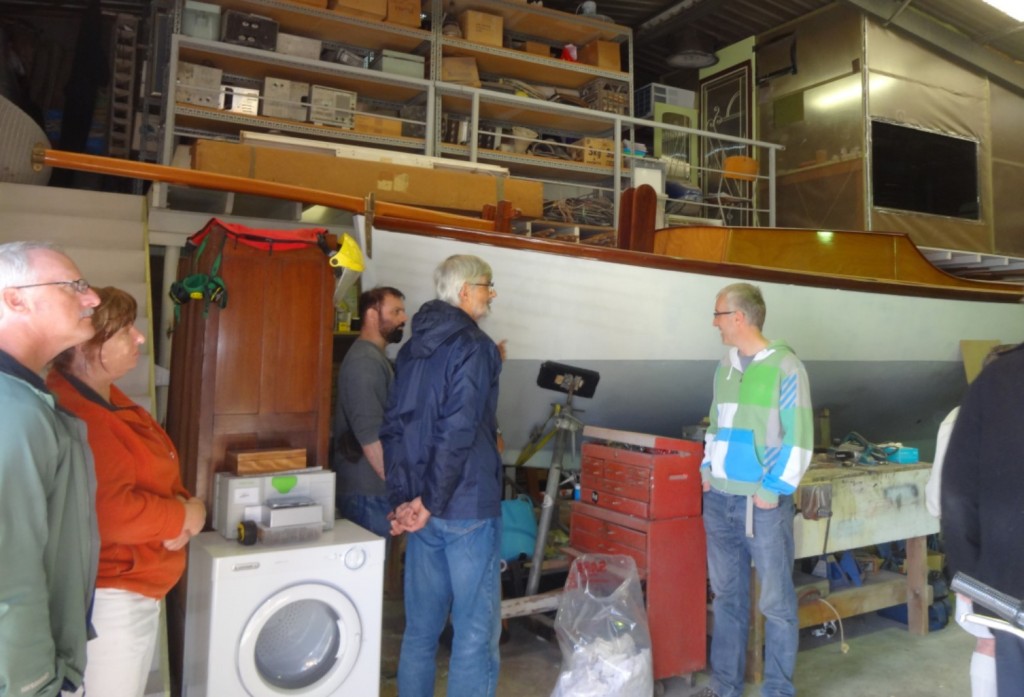 This was a most interesting afternoon in very traditional boat building surroundings. ABBA thanks Igor very much for sparing his time to show us his projects and for his most informative briefing on the restoration of the good ship Maggie. I'm sure this restoration will give her a new life of another 100 years.