Philippe Peche International SailForce
(Michael Wade reports)
We had a very good turnout at "SailForce" on the 24th of August – sixteen members and one dog. Philippe made us very welcome and gave us free rein of his showroom, workshop and stores.
His presentation of what's new in sail boat rigging was first class. He covered the qualities and short comings of various types of synthetic and more conventional materials including steel rod and wire rigging. His use of grinding paste on Diform wire before swaging was particularly noteworthy. The PowerPoint summary of his informal presentation is included with this newsletter mail out.
The pictures of Philippe's showroom and stores, included in this report, show a very impressive range of fittings, all looking to be superbly made to aircraft standards…..and the racks full of reels of rope and cordage add an impressive splash of colour.
The photos and associated notes that follow give a snapshot of the informal talk that Philippe gave to us as he explained the vast array of synthetic rigging and fittings that substitute for the more metallic variety that we have all been so used to using for a very long time.
| | |
| --- | --- |
| Dog bones | Antal low friction aluminium ring and with Dyneema loop (DYNEEMA and SPECTRA are fundamentally the same thing) |

Block with a 4 ton load rating

Soft shackles also come in very small sizes
Overall safety factor for these is 4:1 on breaking load
Based on actual load safety factor 2:1 against safe working load
Safe working load has safety of 2:1 against breaking load
However, it is best to size to working load of 20% of rated load
which gives a long life

4T soft shackle (equivalent SS is 2 ton)
soft shackle $30 equivalent SS is $60




Wire Rigging
Rod rigging
Standard round strand wire
Diform wire – strands interlock and wire is more
compact overall
Roll swage on diform – recommend grinding
paste on diform wire before roll swaging

Rolled swages suffer internal corrosion which
cannot be monitored. Generally require
replacement every 10 years if insurance cover is
to be maintained on rigs.
The sequence of applying a furling termination to a braided forestay
Textile rigging
Stainless steel 8mm wire stays would be replaced with 9 mm Dyneema
Backstays still need to be insulated if they are to be used as an HF aerial due to their conductivity when wet
Dynex Dux stays last longer and are better chafe resistant with a casing on them. The braiding is woven over the rope not slid over
When making up textile rigging it is important to know the creep. Dyneema creeps but Vectran does not. This stretch factor for all types of textile rigging is referenced to stretch in rod rigging for the same load
Splices in textile need to be tapered for 50 times diameter
Textile rigging is being used increasingly in racing yachts because the weight of the rigging is everything eg for 80 ft maxi the weight of paint on mast equates to one ton of lead on keel
Racing Rigging
Carbon is also used for standing rigging and is multi strand and splits at spreaders, doesn't stretch.
Larger diameters
| | |
| --- | --- |
| Blue submarine lifting – 50 ton | Grey – 70 ton – $60/metre |
| | |
| --- | --- |
| | Various gadgets for joining or terminating synthetic rigging and a range of clutches including inbuilt trimming winches. |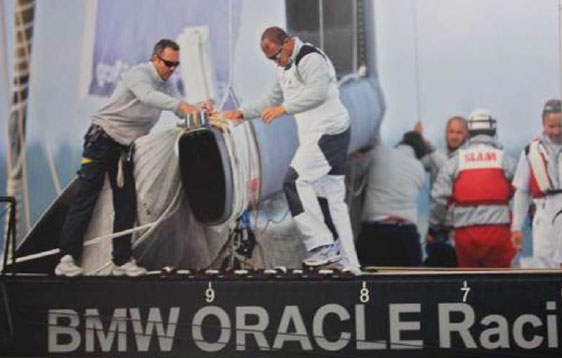 Would you like a bigger boom? A photo of a poster on the wall of Philippe's showroom-we believe it is our host on the left hand side of that monster.
A special vote of thanks to Philippe for his time, his expertise and his hospitality. It was an
afternoon very much enjoyed by us all.